Lead Generation Trends For 2017 and Beyond
---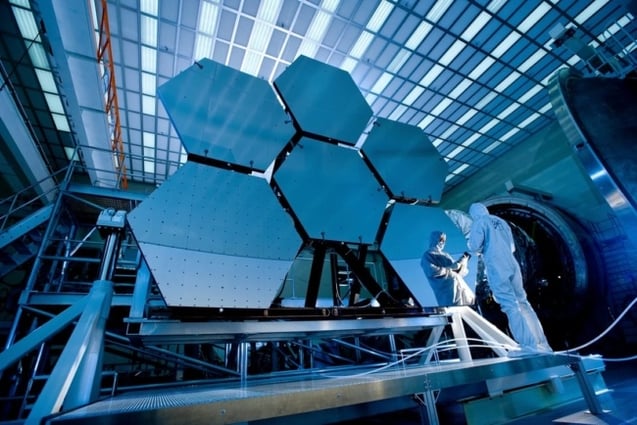 ---
Lead generation, the art of attracting potential customers to your business and converting them into buyers, has seen a rapid development in the last decades. Although it is still common to a certain degree to generate leads through conventional channels like personal referrals or telemarketing, the internet has clearly established itself as the preferred lead generation channel. Even the modern field of online marketing is changing at unmeasurable velocities. One clear sign is that lead generation techniques are shifting from an outbound perspective, to an inbound marketing strategy.
It is estimated that only 17% of marketers last year considered outbound marketing practices to provide the highest quality leads. Sure, traditional techniques such as social media to generate awareness and email marketing to nurture captured leads are still commonly used in the sales funnel, but for the actual lead generation process of converting visitors into prospects, inbound is king. Naturally, traffic plays a key role in this process, and HubSpot estimates that at least 80% of the companies not meeting their revenue goals have less than 10 000 visitors. Nonetheless, no inbound strategy is complete without proper lead generation techniques.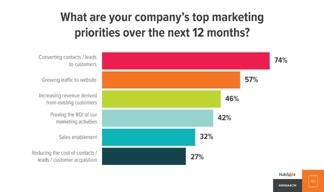 There are hundreds of diverse lead generation strategies being implemented, some more successful than others. Among all the noise in the market, there are some clear trends that apply for this year and keeping up-to-date with the latest technologies and tactics will ensure that your company doesn't miss valuable conversions out of your inbound visitors. Here are the five most promising trends in online lead generation for 2017.
1. No single channel, no unique device
Diversity is the name of the game in 2017. The time where lead generation channels were limited to a few alternatives, like the telephone or email, are long gone. Today you not only have a great deal of channels which you can choose from, even within a channel you have hundreds of options. Think of social media: LinkedIn, Instagram, Facebook, Twitter, the list goes on… Great opportunities exist within this huge diversity. The key lies in leveraging the most important ones for your desired target group and combining them with adequate strategies. Nonetheless, one thing is certain: just a few channels, let alone a single one, will not suffice for a successful lead generation strategy.
The same applies for devices: limit your online business to a single device and you are almost certainly doomed to fail. With the increased usage of mobile devices, an online marketing campaign can no longer be focused on desktop computers and laptops alone. Last year there were 2.6 billion smartphone users globally and it is estimated that this number will grow to 6.1 billion by 2020. In the USA, at least two thirds of the population use a smartphone to access the internet. Thus, mobile friendliness is vital for every single online business nowadays. From display to functionality, SEO to traffic measurement, online businesses need to provide not only a UX that is adapted to mobile needs, but they also need to focus on the adequate lead generation tactics and technologies.
2. Quality-driven content marketing = quality lead generation
In the inbound community, it is popularly stated that content is king. Studies show that per dollar spent, content marketing generates at least 3 times more leads than conventional marketing techniques. It is a great strategy to attract traffic through SEO techniques and also guide a customer along the Buyer's Journey with proper educational information. However, there is a popular belief that although this technique does help increase audience numbers, it does not ensure high-quality lead generation. This is something that is bound to change and has already been changing for a while.
The immense amount of content offer available at the web is increasing with every single day. This has resulted in large content offer which usually consists of a huge portion of mediocre content published towards SEO goals and a small portion of valuable content. The second one is extremely important from an inbound marketing perspective and will see an increase in the next years. Companies will start focusing in acquiring content professionals and aiming towards content quality instead of quantity and frequency. Moreover, content will be tailored towards specific audiences and customers along specific phases of the Buyer's Journey, instead of looking to attract a more general public based on virality.
3. Customized lead generation tools
Just as with high-quality content, lead generation tools are starting to be customized so that they better fit the lead's requirements, provide a more engaging user experience and thus generate more contacts for your business. A study by Econsultancy and Adobe showed that B2B marketers considered customer experience and personalization to be the most promising marketing trends in the next years along big data. One fourth of them even mentioned customer experience as the single most important opportunity. Engaging content will ensure that the inbound traffic that a business experiences can more effectively be converted towards potential customers. Moreover, personalized experiences from the earliest interaction phases between your leads and your business will give potential buyers a further reason to hang around.
Boring contact forms on a separate page are starting to appear less attractive than customized, gated content in online presentations or videos. Other great examples are quizzes and calculators, which have a much more appealing effect than a regular contact form or newsletter subscription and thus provide a more interesting variant to convert visitors into leads. Even integrated microsites that allow you to track specific user engagement are gaining large popularity.
Which tools you implement depend on the public you address with your content and combining different strategies with diverse tools can help find the adequate approach. And if you're dubious about the success of adapting your lead forms towards your customer experience, remember that Expedia generated an extra $12 million a year just by removing one field from their regular contact form. Image if they introduced interactive lead generation tools…
4. Data-driven lead generation
In the age of information, data is essential. It is estimated that 42% of marketersconsider that lack of quality data is their largest obstacle towards quality lead generation. Detailed information on the behavior of prospects provide valuable insights on his journey along the sales funnels and helps sales reps take more accurate decisions based on specific data analysis. From tools like Google Analytics, to lead scoring systems, tracking the behavior of leads and registering it in large databases that can be analyzed will be essential. This trend in data analysis is reflected in three main aspects:
Big data professionals: The increased need for professionals in analyzing large amounts of data on lead and customer behavior.
Data Analytics Tools: From

Google Analytics

to CRM solutions such as

HubSpotor

Salesforce, there is a clear increase in the usage of tools that provide a statistical analysis of customer and lead behavior.
Machine Learning: Although still on its infancy, machine learning is bound to be large in the following years, with lead scoring systems and other smart data being managed by artificial intelligence.
5. Automated prospecting
The term marketing automation is probably more popular in the business environment nowadays, than Napoleon Bonaparte was at the beginning of the 19thcentury in France. It is a trend that is changing the way marketing and sales are done online. Over 70% of businesses are currently using or implementing a marketing automation solution and it is estimated that at the overall investments of companies in marketing technologies has surpassed that of advertising and that a company's CMO on average invests more in automation technologies than a CIO in IT.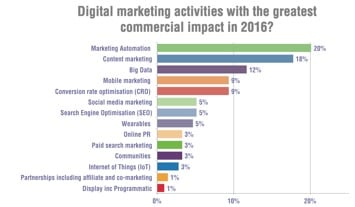 There is no question that marketing automation is big. However, CRM tools and automated lead nurturing have been around for a while, so what is the actual innovative trend here? Two words: automated prospecting. Automated lead generation has been introduced by diverse tools that not only generate lead data and capture contact details from inbound traffic, they also automate or semi-automate activities such as lead scoring and even follow-ups. This on the other hand gives marketers and sales reps more time to concentrate in other key activities along the sales funnels, such as closing main deals. Prospecting is usually one of the most resource-intensive activities of a company, and thus the possibility of automating most of this steps with technologies is bound to have a brilliant future for both, sales and marketing.
AS the VP of marketing from Google Cloud Alison Wagonfeld brilliantly pointed out:
"Marketing still needs art to go with the science."
No matter how effective the new marketing and sales technologies are and how significantly the are improving the way business is done, we should never lose track of the human side of business. A healthy balance between both will ensure great success for your business in the years to come.
A big thank you to Michael Steinberg and the folks at Tenfold for the awesome guest post! Check out the original post here.
About Author
Comments
Stay up to date.
Subscribe for periodic updates on the latest happenings in life science and healthcare marketing.
Subscribe Here!
Related Posts
Ingenuity is about being clever, original, and inventive. It means finding a way to accomplish your goals
BY Guest Author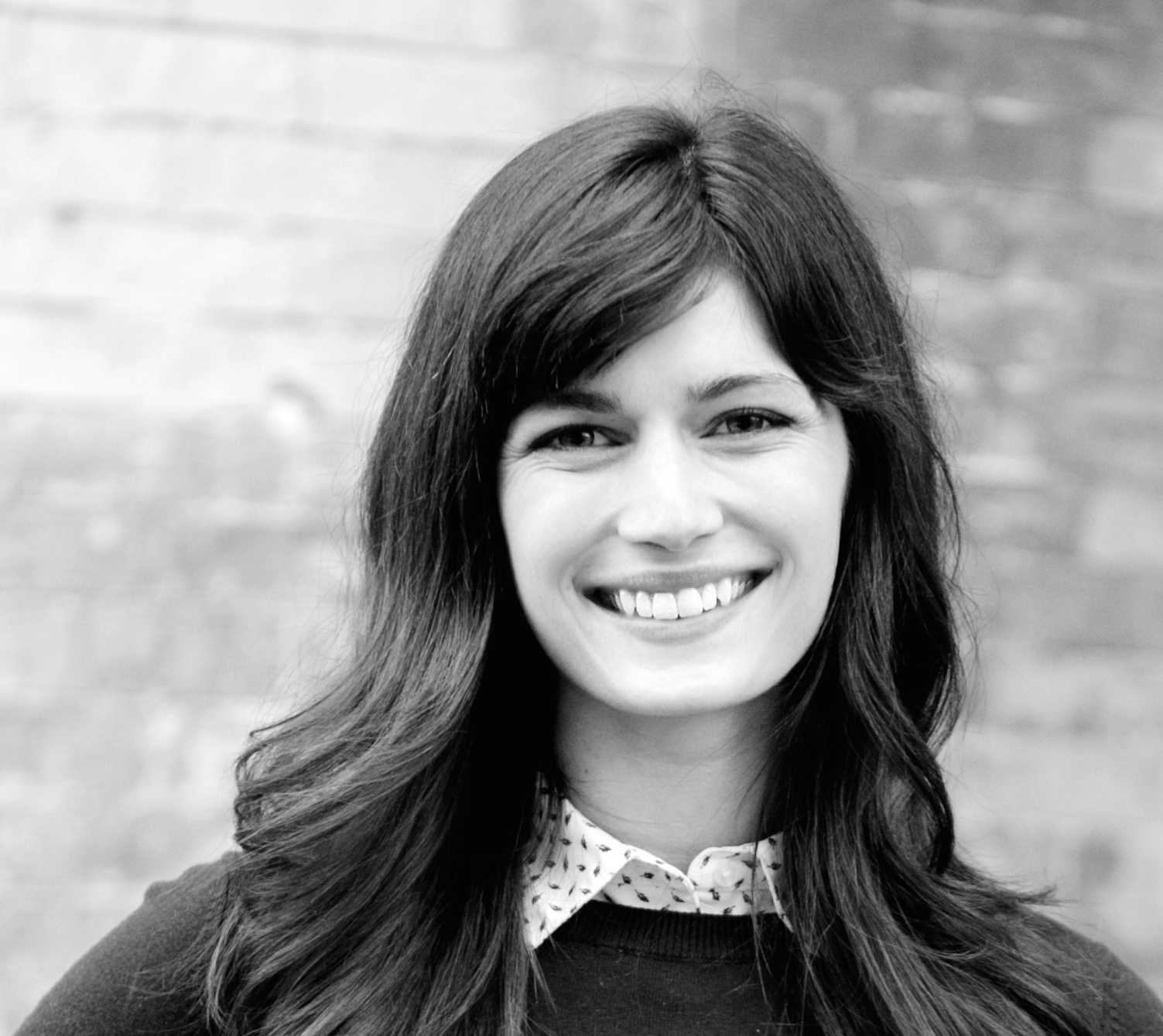 BY Rachel Mimken
Before coming to Choozle, a digital advertising platfor...