Finding Our Missing Element: Why CG Life Entered the Equation
---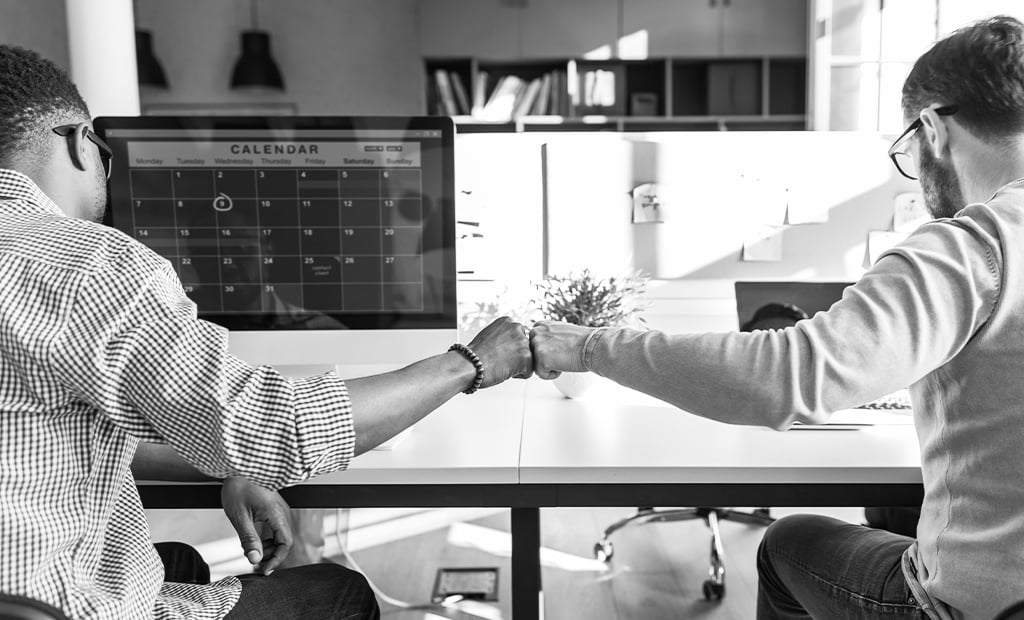 As you may have heard, The Market Element is now a CG Life company!
The convergence of these two agencies represents a symbiotic evolution of capabilities, personnel, and above all, opportunities for our clients. Our discussions leading up to the official acquisition were full of excitement about the possibilities enabled by our combined forces. Now, it's high time for us to lift the curtains and let you in on our vision.
The Opportunity
Businesses thrive on differentiation. However, in the pursuit of unique value, the ability to optimally serve one-of-a-kind clients across industries, company sizes, and stages of maturity inevitably declines.
CG Life had been working with clients to understand the power of marketing automation platforms and how to best implement them as a hub for its integrated services. But there were several instances where a client had purchased an expensive subscription and then found themselves unable to fully take advantage of the investment. This new influx required additional resources, which CG Life wanted to be able to more readily accommodate on the fly, alongside their existing projects.
At The Market Element, individuals were also itching to dig deeper. The small but mighty team covered a lot of ground and mapped out ambitious marketing strategies. However, they didn't always have the resources to fully execute these plans on their own. This became a frequent frustration, and a frequent limitation to business growth.
We wanted to do more for our respective clients. But first, we needed back-up.
Nothing beats bringing an in-house united front to bear against the toughest challenges your clients face.
Advancing Marketing Automation
Marketing automation is more or less "home base" for The Market Element. We have been a HubSpot partner agency for over five years and in that time, we have worked with Pardot, Act-On, Drip, and Marketo.
While CG Life is no stranger to the power and promise of marketing automation, The Market Element has encoded marketing automation in its agency DNA. We specialize in services such as email nurturing programs, marketing/sales alignment and sales enablement, and database segmentation and management.
With CG Life's deep scientific competencies and understanding of this audience's purchasing decisions and buyer behavior, we are equipped to build the highest levels of insight into automation programs. It's one thing to receive an email with the right content at the right time, but it's far more impactful to receive that email with all the nuances of your unique pain points effectively and appropriately addressed.
Eliciting a personal response to large-scale automation is a demanding task that can only be achieved by knowing your target audience at a deep level and having the dexterity to implement that knowledge in a meaningful way. Combining CG Life's core strengths in market intelligence with The Market Element's hands-on automation experience paves the way for personal impact at scale.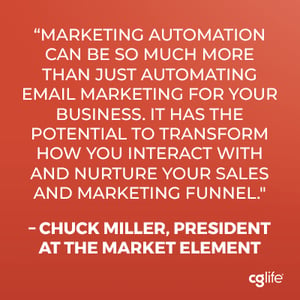 "It's exciting to see so many clients organically understand the value of marketing automation tools, something that's been part of our agency service offerings for a while," said Jeremiah Worth, VP of Digital Marketing at CG Life. "To make sure we can continue to support our clients' needs today and tomorrow, we are thrilled to have the additional knowledge, strategy, and – crucially – bandwidth that The Market Elements brings to be able to continue to maximize the platforms for our clients, both strategically and from an execution standpoint."
"Marketing automation can be so much more than just automating email marketing for your business. It has the potential to transform how you interact with and nurture your sales and marketing funnel. By leveraging data to contextualize touchpoints, marketing automation empowers your business to personalize, systemize, and scale its ability to serve and communicate
with current and future customers." Chuck Miller, President at The Market Element. "Over the past six years, we've seen transformative results from marketing automation and are true believers in its potential to grow business by driving efficiency and sales, all while maintaining a company's brand and culture."
Enhanced Content Strategy and Execution
Content is core to digital marketing. It can be the key to the email inbox, the supporting material a sales rep needs to reinforce the points of a tricky call, and most fundamentally, the conduit for connection between a brand and its audience.
Previously at The Market Element, we would strive to develop an understanding of our clients' products and services to create content intelligent enough to be effective. However, we consistently found ourselves coming short of a true appreciation for the complex specifics of what our clients do. Now, backed by CG Life's decades of science and healthcare expertise, including on-staff PhD's, the content we produce is technically sound and elevated to a level of sophistication that can crack even the most skeptical audiences.
There are keen process benefits as well. Without the depth of product and service knowledge our clients have, we often needed the client to handle the first draft. We then added value with our editorial skills, shaping it into digestible content. CG Life has the knowledge to produce content covering even the most complex scientific concepts from the ground up – thus easing the burden on our clients and adding even more value.
Similarly, we don't have extensive creative talent in-house at The Market Element. Our new friends at CG Life do. Rather than adding time, cost, and complication to the creative process by engaging with external parties, we now have the skills to bring our creative vision to life and to provide the full package with branding and positioning, website reskins, logo development and more.
Indelible in content marketing is the need for SEO. Any piece of content that goes on the web has the possibility of attracting valuable organic traffic and the reasons not to optimize content for search are infrequent. It's a delicate act balancing satisfying readers and optimizing for search engines and it only gets more difficult with complex subject matters. Having an in-depth knowledge base to optimize from ensures that our content will resonate with readers and be more successful in search than ever before.
To get out in front of those audiences and to hit the mainstream news, we'll be looking to CG Life's outstanding PR and paid media teams, which provide much-needed amplification for our clients' content. What will we do with all the traffic and leads from our enhanced content?
Why, we'll put them into our newly-improved marketing automation machine.
When 1 + 1 = 3
Why partner with an integrated agency? We believe in the saying that "if you go to a PR agency, the solution is always going to be PR." That's what they do best. We have many more tools in our toolbox, allowing us to formulate the very best, customized strategy for the project at hand. The confluence of our agencies bestows our newly-united teams with an unparalleled arsenal of capabilities to better serve our clients.
At the end of the day, CG Life and The Market Element now represent a holistic and comprehensive array of wisdom, know-how, and capabilities. That said, we promise to not take ourselves too seriously. Alongside all the symbiotic capabilities, our two agencies share a common culture of fun, creativity, transparency and hard work.
Sound like something your company should take advantage of? Drop us a line and let's talk.
About Author
Comments
Stay up to date.
Subscribe for periodic updates on the latest happenings in life science and healthcare marketing.
Subscribe Here!
Related Posts
Ingenuity is about being clever, original, and inventive. It means finding a way to accomplish your goals
BY The Market Element, A CG Life Agency
Acquisition to Enhance Inbound Marketing, Marketing Aut...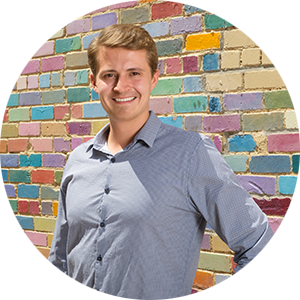 BY Andrew Sober
The opinions expressed in this blog post are not legal ...